Shanghai in the center of China's eastern coastline is one of China's cultural centers and has a long history as a trading port and gateway for foreigners entering China. It is the gateway to the Yangtze River delta. It is a municipality under the direct jurisdiction of the Central Government and the largest economic and trade center in China.
China's biggest and most prosperous city oozes an atmosphere of vitality and a dynamic which can rival New York in the United States and Paris of France in terms of modernity.
Shanghai's gorgeous night scene is one of the main highlights that will linger in visitors' mind owing to its ornate feature after their Shanghai travel experience. As night descends the entire city is lit up by dizzily colorful lights joined occasionally by the bright moon hanging in the sky.
Shanghai stands in the front line of China's economical development and has undergone unimaginable changes in the last two decades. The portrait of new Shanghai around the new Pudong area with its prosperous cosmopolitan features usually wows visitors as they are personally exposed to the lightning pace when they are traveling Shanghai.
Shanghai retains China's last vestige of its unusual colonial past. The foreign architecture standing along the Bund area is living museum of the colonial history of the 1800s. Many visitors find them immersed in thoughts of a bygone time as they strolling Shanghai's waterfront Bund area during their Shanghai travel.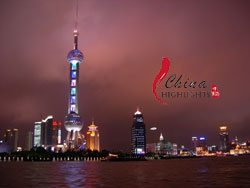 Shanghai is a renowned green city. Lush green covers all the open space of the city. The refreshing green visa is another highlight that renders travelers an unforgettable Shanghai travel experience.
Shanghai's travel industry has leapfrogged rival destinations to emerge as one of the most popular travel destination worldwide. The Shanghai government and its people are doing tirelessly to improve the travel infrastructure and facilities to ensure tourists exceptional and memorial Shanghai travel experiences. Their hard efforts have been rewarded recently and a large number of travelers choose to return after their first Shanghai travel.
Weather in Shanghai features hot summer and cold winter and generally speaking, the best time to travel Shanghai is autumn and spring when the weather is pleasant but winter and summer are also good season to travel Shanghai in terms of cost.
Since winning the bid for World Expo 2010, Shanghai has been busy preparing itself and all necessary work is well in hand. The world has given China and Shanghai the opportunity to host this prestigious event and it will be well prepared when the time come. The hospitable Shanghai and its friendly people are always ready to receive people from all over the world and travelers are more than welcomed to travel Shanghai.