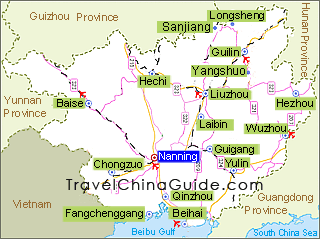 Just as Xian is a must when you travel to China, so is Guilin. The stunning landscape in which the city is situated has a kind of magic that is all its own. The strangely shaped hills, or karsts, with the verdant vegetation ranging from bamboo to conifers together with wonderful caves make Guilin such an attraction for tourists.
Located in the northeast of Guangxi Zhuang Autonomous Region, Guilin is considered to be the pearl of China's thriving tourist industry on account of the natural beauty and historic treasures. Covering an area of about 27,800 square kilometers (10,734 square miles), the city is rather compact when compared with other leading cities in the country. However, situated within this area one may find green mountains, crystal clear waters, unique caves and beautiful stones.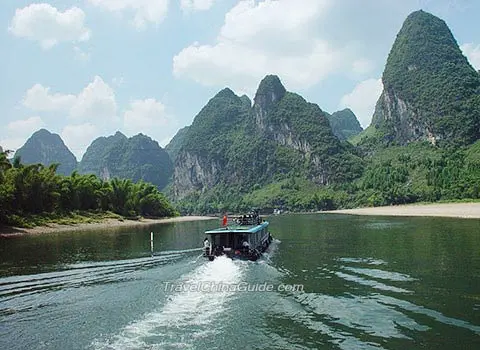 Major attractions include Elephant Trunk Hill, Li River, Reed Flute Cave and Seven-Star Park that boasts a Stone Museum where amazing geological finds are displayed. Believe that each of these places and many other attractions will leave you the lasting memories.
Guilin is also an important cultural city with a history encompassing more than 2000 years. The city has been the political, economic and cultural center of Guangxi since the Northern Song Dynasty (960-1127). Solitary Beauty Peak is considered to be the oldest place of interest and has been so since the far off days of the Southern Song Dynasty (1127-1279). The prosperity enjoyed by the city during the Ming Dynasty (1368-1644) is epitomized by the Tomb of Prince Jingjiang.
The many ethnic minorities represented here that include the Zhuang, Yao, Hui, Miao, Mulao, Maonan and Dong enrich the cultural life of the city. Each minority has its own unique customs and festivals and this means that they are much more abundant here than in many other places elsewhere in China. Travelers can enjoy these pageants at the Li River Folk Customs Center.
Guilin is a well-developed tourist center with convenient transportation, communication and accommodation facilities. You can enter Guilin by air, by train or by bus and get around on free buses. From luxury hotels to hostels, from splendid restaurants to local snacks, you are sure to find that your needs will be met beyond your expectations.